Hi Everyone!
It's time for our new challenge at Paper Creations Ink. We have a great theme this week. "Something Old/Something New" Our sponsor digis are such fun to work with. I got to use Flight of Fancy and Love Blooms digi paper, you can find them at Floppy Latte's Digital Designs.
My little "Just for you card is going to one of my friends. The only something new on my card is the digi paper and image, everything else is old and has been in my stash forever! I will be entering my card into the following challenges:
I used some of my favorite tools to create my project:
Floppy Latte's Flight of Fancy digi & Paper
Cuttlebug, Swirl Die Cut & Embossing folders
Tag Punch, Pearls, Ribbon
Can't wait to see what you create. Our challenge runs until December 31st. Our winner will receive a $10.00 Gift Certificate from our Sponsor Floppy Latte's Designs!
Our MONTHLY sponsor is
Crop Stop
! We are so excited to share with you the wonderful prize that
Crop Stop
has offered to ONE lucky winner, a $30.00 gift certificate to their online store! How cool is that? In order to be eligible for this wonderful prize, you must enter BOTH December Challenges to win! (We wanted to extend a HUGE "THANK YOU" to Haylie-Jo owner of Crop Stop!)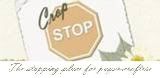 Thanks for stopping by, bunches of hugs