Hi Everyone!
Our Challenge for the next couple of weeks is "Love Bites" It's open to interpretation, you decide what that means to you...lol
I made my own background with the words "He loves me, he loves me not". Used my cuttlebug , nesties with some embossing folders. Computer generated "Love Hurts" sentiment. I made my little stick pin. I even embossed and distressed the heart doily. Used my Copics to color my digi. Added a bow and some pearls to finish it off.
I made this for one of my friends to give to her DH...should be interesting... She really like this little "Black Widow" SBDS digi . I am entering my "Love Hurts" card into the following challenges:
Tiddly Inks is the sponsor for February. Don't forget to visit, Christy has some cutie patootie digis!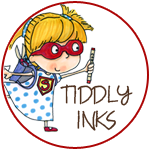 Here's a little blurb about Christy the owner:
I am a self-trained illustrator who likes simple, cute and quirky drawings with a sense of humor. I draw what amuses me, which means some days it is quirky and cute and other days I come up with a bit of twisted gothic feel. I hope you like them as much as I do. My personal professional illustration portfolio can be found at
http://christycroll.com
.
Hope to see you all at the Corrosive. Thanks for stopping by,