Hi Everyone!
I am still excited about having won the December Challenge at The Corrosive Challenge Blog in December. This is my last GDT post for February.
Our Challenge for the next couple of weeks is "Another Dimension" It's open to interpretation, you decide what that means to you...lol Check out all the wonderful DT creations for some inspiration.
I made this card for Maddie. She is at that "attitude" stage..lol I am entering my "Whatever!" card into the following challenges:
I used some of my favorite tools to create my card. My cuttlebug and Nesties, my copics. One of my label punches, added some ribbon, bow with black button. Used up DP & cardstock from my stash.
I distressed my card to an inch of it's life. Used my fingers and hands, kinda like that look better than some of the distressing tools. Amazing that I haven't gotten any paper cuts yet...lol
Tiddly Inks is the sponsor for February. Don't forget to visit, Christy has some cutie patootie digis!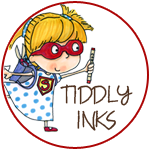 Here's a little blurb about Christy the owner:
I am a self-trained illustrator who likes simple, cute and quirky drawings with a sense of humor. I draw what amuses me, which means some days it is quirky and cute and other days I come up with a bit of twisted gothic feel. I hope you like them as much as I do. My personal professional illustration portfolio can be found at
http://christycroll.com
.
Hope to see you all at the Corrosive. Thanks for stopping by,